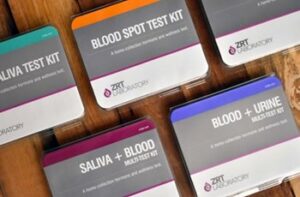 Tunkhannock Compounding Center offers convenient at-home testing kits for hormone testing and more through ZRT Labs. There are many ways to use ZRT's testing, please call us for more information. You can also visit ZRT website at zrtlab.com
ZRT Laboratory is a CLIA-certified commercial and research laboratory founded in 1998 by breast cancer researcher David Zava, Ph.D. ZRT Laboratory has pioneered innovative testing methods for hormones, neurotransmitters, heavy metals and more, offering health care professionals convenient testing options in different body fluids including saliva, dried blood spot, dried urine, and serum. ZRT is the recognized leader in at-home saliva and dried blood spot collection methods for hormone and wellness testing. ZRT is the lab that developed dried urine testing for hormones.
Do you have questions about how to collect your sample(s)? Visit https://www.zrtlab.com/patients/how-to-collect-your-sample/ for video demonstrations.
Saliva testing is a non-invasive collection method where saliva is collected in plastic tubes to measure hormones such as cortisol, estrogens, progesterone, and androgens. This non-invasive saliva collection is ideal because it allows samples to be collected privately at home or work.
Why Test Hormones in Saliva?
Steroid hormones in the bloodstream are 95-99% bound to carrier proteins, and in this form are unavailable to target tissues. Saliva testing measures the amount of hormone available to target tissues – the bioavailable amount. For this reason, saliva testing better relates to specific symptoms of excess or deficiency and is a good option for monitoring the effectiveness of hormone therapy.
ZRT is one of the first labs to measure hormones in saliva and has helped establish the method that made saliva hormone testing commercially viable for health care providers and patients around the globe.
Dried blood spot is a form of collection where patients place blood drops on a filter card after a finger prick with a lancet. Once dry, blood spot cards are extremely stable for shipment and storage, and the dried blood format offers excellent correlation with serum tests.
Why Measure in Blood Spot?
Blood spot is ideal for measuring hormones and other analytes such as insulin, blood lipids, Vitamin D, thyroid hormones, and elements such as lead and magnesium. It offers distinct advantages over serum because it eliminates the need for a blood draw – saving patients time and money.
ZRT developed the science for accurately measuring hormones in dried blood spot and is currently one of the only labs to offer this method commercially.
Dried urine is a form of collection where patients saturate a filter card with a urine sample. Once dry, urine cards are extremely stable for shipment and storage, and this method eliminates the need for jug urine collection.
Urine testing is the best way to measure adrenal and sex steroid hormone by-products and their respective metabolic pathways, providing a gauge for understanding the body's hormone metabolism. Urine testing is also the preferred method for testing elements like iodine and heavy metals like arsenic and cadmium. Additionally, it is the most common method for testing neurotransmitters.
Accurately measuring hormones in dried urine is another scientific first pioneered by ZRT.
© ZRT Laboratory, LLC. Used with permission.